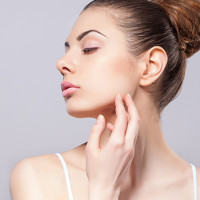 Interactive procedure Derma phase
Intensive, regenerative procedure is intended for thin, biologically ageing, non-elastic skin of face-neck- décolletage.
Effect – the recovery of the structural peculiarities of the whole skin. Skin becomes significantly younger, more elastic and firm; muscles relax.
Recommended course of procedures: total 6-10 procedures each 7 days.
Interactive procedure Derma phase
Duration 60 min. : 38-43 €