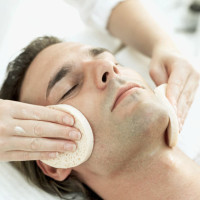 Refreshing and moisturizing procedure for facial skin, for men
This is a new complex procedure during which your facial skin is moisturized and refreshed.
First of all, your face is cleaned with a help of special cleanser. After than skin is softly moisturized with refreshing lotion and peeling is made. It carefully removes surface and deeper skin impurities. Then a beautician gives specially created for men massage of face, neck, nape and shoulders – slow, deep, relaxing and reducing tension movements is maximum relaxation in the area of face, neck and shoulders. Tense places of nape and neck are relaxed. One of the stages of this procedure is the contrast of warmth and coolness that is created with a help of special towels which refresh skin. Specialized professional products and their odors were developed specially for this procedure – moisturizing, refreshing mask, cleanser, creams and masks have discreet odor and are quickly absorbed into skin, thus there is no unpleasant sticky feeling on your skin. This procedure is perfectly suited for flaky skin which is exhausted by frequent shaving and wind and sun influence. Let yourself forget about hard work if only for a moment. Well-being that helps to shake off bad thoughts!
Duration – 1 hour 20 min.: 55 €