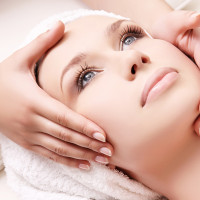 This procedure stimulates the process of cell renewal and consistent face colour. It is a very delicate procedure which is suitable for very sensitive skin; before and after being in the sun. Delicate effect of this procedure holds high dermatological activity. This procedure can be performed one time or as a complex of procedures.
Effect: increase of biological cell resistance, recovery of skin elasticity and vibrancy; skin becomes younger, more elastic and even.
Recommended course of procedures: 1 procedure per week throughout the year without any restrictions.
Duration: 45 – 60 min. : 32-38 €