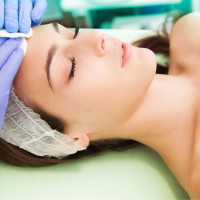 Acne peeling using natinuel cosmetics
Sebaceous gland disorders are a frequent skin problem which determines aesthetic look of skin. Individually chosen methods of procedure carrying out and Natinuel cosmetics have effect on all skin compartments and allow finding optimum alternative in problematic skin care, normalization of skin state and improvement of its look. This procedure is best suited to oily and acned skin. In case of acne the procedure can be applied to other skin areas.
Effect: normalizes, calms and cleans skin, keep oil gland ducts from blocking and prevents pimples. Quick improvement of skin suffering from acne – skin becomes smooth and recovers its healthy look.
Recommended course of procedures: the first 5-8 procedures each 7-10 days. Next procedures – each 30 days.