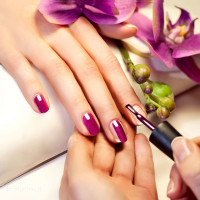 Covering with gel nail polish is an essential thing for each modern, stylish woman.
This special technology allows each woman to have irreproachable nails within 2-3 weeks. Besides, protected with this gel nail polish your nails will not break and split; they will stop chipping and will be healthier and firmer. A large variety of colours.
Hot news – magnetic nail polishes responding to magnet being in the stopper of nail polish bottle!